Winter weather and spring rains can be hard on wooden decks, causing stains from water damage, leaf residue, and sediment buildup. If you're in need of outdoor deck cleaning to get your patio in shape for the summer, you contact Maryland Pro Wash rather than attempting to pressure-wash the wood yourself.
Keep reading for a list of 3 reasons why going with a professional service is the way to go when it comes to pressure washing or soft washing your deck.
1. Safer for You and the Environment
Professional deck cleaning equipment uses a high-pressure stream to blast away surface stains, making it very dangerous for untrained people to use. If improperly directed, the stream can damage skin in seconds, potentially causing serious injuries that could lead to bacterial infections if the fluid gets under the skin.
Additionally, it can be difficult for amateurs to correctly estimate how much water or chemical solution to use when washing their patios, leading to unnecessary pollution and waste. Trained technicians know exactly which chemicals to use for minimal effect on the environment.
2. Professional Deck Cleaning Has Better Results
Pressure washing equipment is difficult to use correctly without professional training. Homeowners who don't have the requisite expertise run the risk of damaging their property with incorrect techniques.
Hiring an expert deck cleaner will not only ensure that your patio will look its best, but it will also safeguard against the risk of damaging the wood through the improper use of pressure washers. Professionals will also be able to determine what type of outdoor wood cleaning is right for your specific patio. For instance, a softer wood such as pine or spruce might require a gentler technique, like soft washing.
3.  Save Time and Money on Outdoor Wood Cleaning
Whether your patio needs pressure washing or soft washing, you'll find that going through a professional deck cleaning company will save you a considerable amount of time over struggling to get the wood clean yourself. You also won't have to spend an exorbitant amount of money buying or renting your own pressure-washing equipment.
Enhance Your Outdoor Spaces Today!
When it comes to beautifying your outdoor spaces, there's no substitute for professional attention. Contact a professional deck cleaning company to handle any pressure washing, soft washing, or other outdoor wood cleaning you need to get your house and deck ready for summer entertaining.
Schedule a service with Maryland Pro Wash today!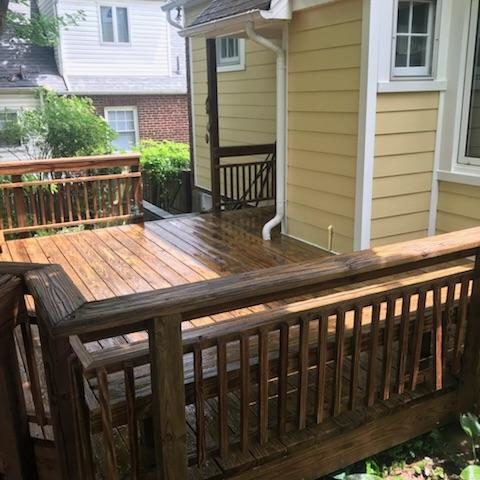 Posted in
Brook Haven PA
,
Broomall PA
,
Chester PA
,
Chester Springs PA
,
Coatesville PA
,
Deck Cleaning
,
Downington PA
,
Drexel Hill PA
,
Exton PA
,
Glen Mills PA
,
Havertown PA
,
Lima PA
,
Malvern PA
,
New Castle DE
,
Newton Square PA
,
Oxford PA
,
Springfield PA
,
Swarthmore PA
,
Wayne PA
,
West Chester PA
|
Deck cleaning
,
pressure washing
,
Soft washing
,
Wooden Deck Restoration