Your home has just received its first professional pressure washing service. The crew has just left, and your home is sparkling clean. The siding, roof, and windows look like new.
Then a feeling of mild panic sets in as you wonder how you'll keep your home this clean. How can you get the most bang for your buck and ensure your exterior cleaning lasts?
Keep reading for tips on essential exterior maintenance after a professional exterior cleaning.
Keeping Everything Clean
Professional pressure washing will make the exterior of your home sparkle. Now it's up to you to maintain the results until it's time for the next cleaning. By doing so, you'll enjoy a cleaner exterior and extend your home's curb appeal.
Windows
You need to give the outside of your windows a good cleaning at least once a year. The pressure washing service likely removed gunk, debris, and mold from around the windows. Not it's time to clean the glass.
Begin by mixing water with a few drops of dish soap. Wipe your windows with a gentle microfiber cloth. Rinse the soap off the windows with your hose.
To ensure a streak-free shine, use a vinegar and water mixture and a squeegee for the final step.
Roof
After you get a house washing, don't forget about the roof! Using a broom to help you, sweep off any debris and loose dirt.
Check to see if you have any loose shingles or black algae stains. Algae stains will require a more thorough cleaning, and you'll need other tools to repair loose or missing shingles.
If you're unsure how to clean your roof, call in the professionals to help.
Landscaping
Keeping your lawn and landscaping clean is another easy way to maximize curb appeal after an exterior cleaning. Trim any branches on bushes or shrubs. Reseed bare spots in your lawn.
Be sure to check your trees, too. Many homeowners neglect to remove dead or diseased branches.
Spot Clean Big Stains
Your house exterior will inevitably get dirty after an exterior cleaning, but you can keep things looking fresh by attacking stains early!
If none of these tips address your stain problems, you're probably due for another exterior pressure washing.
Siding
This part of house washing is easy! If there's dirt or mud on an exterior wall, you can often spray it with a garden house or use a gentle dish soap and water solution.
You can remove most set-in stains with a mildly acidic mixture of white vinegar and water. Use a spray bottle to apply the mixture to the siding and let it sit for a few minutes.
After that, use a sponge or brush to scrub the stain away. Finish up by rinsing the solution away with your garden hose.
Even a weak acid like vinegar can damage your landscaping. Before using it on your home, always dilute vinegar and consider covering plants with a tarp.
Brick
Whether on your home or as pavers, brick can be more delicate than siding when cleaning. You'll want to keep acids like vinegar far away!
Instead, tackle stains on your brick with a mixture of dish soap and warm water. Spray this onto your bricks and let it soak in before scrubbing the stains away with a brush.
For really set-in stains on your pavers, make a paste of dish soap and baking soda and use a paintbrush to apply it to the affected area. Let it sit for 15-20 minutes before rinsing it with warm water.
Asphalt And Concrete
A leak in your car or gas-powered landscaping equipment can easily cause an unsightly oil stain on your clean asphalt or concrete.
The first step is to soak up any excess oil on the surface. Rags and kitty litter are both effective, though baking soda will also help lift the stain from the surface.
If you choose baking soda, leave it to sit on the stain for at least fifteen minutes before rinsing it with warm water. Use a hard bristle brush to scrub the stain, too.
If scrubbing with baking soda doesn't lift the stain, do the same set-and-scrub technique with dish soap or laundry detergent. No matter what you use, make sure to rinse it with plenty of water from your hose.
Use A Mop To Clean the Wood
Cleaning dirt and stains from wood decks and porches is also pretty easy. You won't be surprised to hear dish soap and warm water normally does the trick!
After sweeping the wood free of loose dirt and debris:
1. Use a mop to apply the warm water and soap solution.
2. Use gentle scrubbing to attack stains and difficult patches.
3. Rinse away any suds with warm water.
Proper Care Extends Your House Washing
Proper exterior maintenance for your home starts with hiring a professional power washer. But you can extend your curb appeal by addressing other areas of your home and taking care of stains in between washes.
Once your home is ready for another pressure washing, be sure to let us know!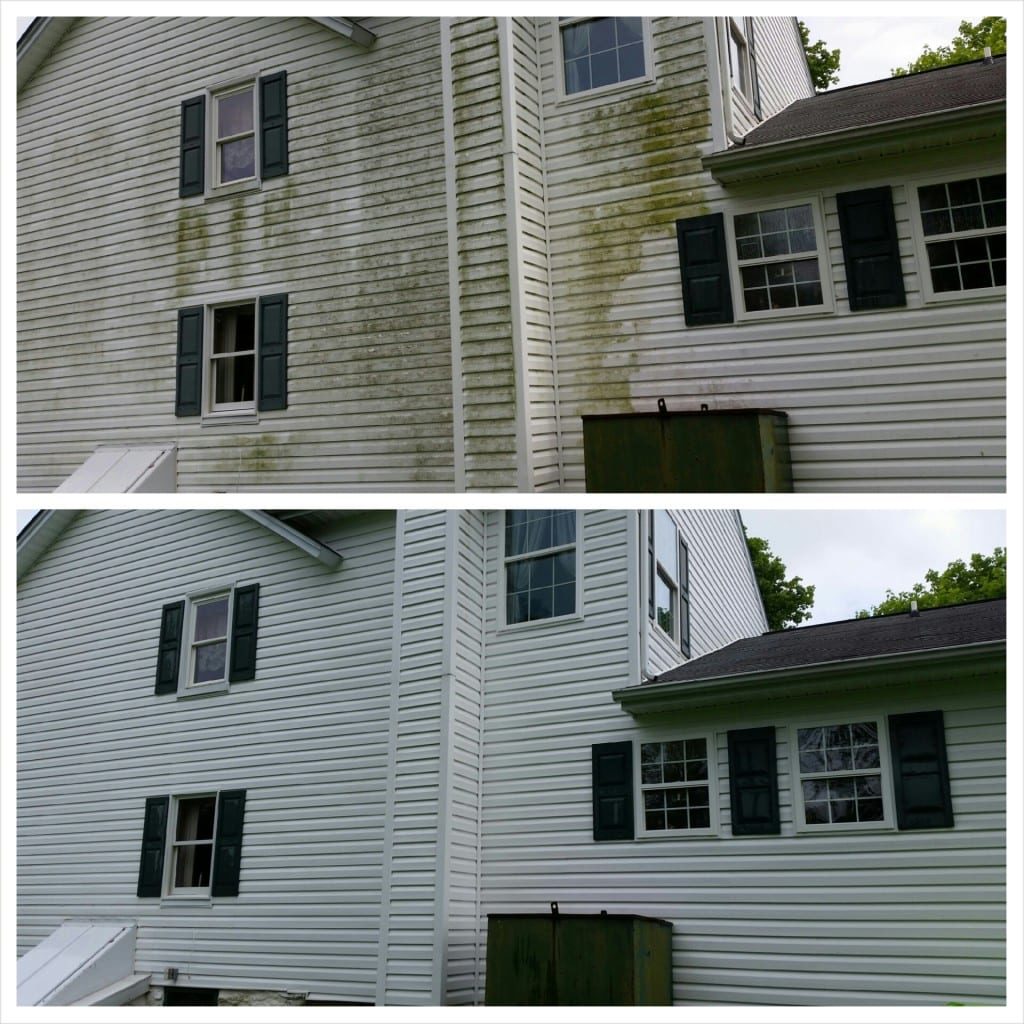 Posted in
Anne Arundel County, Maryland
,
Baltimore County, Maryland
,
Brook Haven PA
,
Broomall PA
,
Carroll County, Maryland
,
Cecil County, Maryland
,
Chester County, Pennsylvania
,
Chester PA
,
Chester Springs PA
,
Coatesville PA
,
Delaware County, Pennsylvania
,
Downington PA
,
Drexel Hill PA
,
Exton PA
,
Glen Mills PA
,
Harford County, Maryland
,
Havertown PA
,
House Washing
,
Howard County, Maryland
,
Lima PA
,
Malvern PA
,
Marcus Hook PA
,
New Castle County, Delaware
,
New Castle DE
,
Newton Square PA
,
Oxford PA
,
Springfield PA
,
Swarthmore PA
,
Uncategorized
,
Wayne PA
,
West Chester PA
|