Owning a condo or apartment complex comes with a set of responsibilities including property maintenance so that damages and repairs are reduced. One of the best methods for apartment cleaning is using pressure washing. Not only does this maintain the beauty and integrity of your buildings, but properties that are regularly maintained have a higher value. Our team of professionals at Mayland Pro Wash is here to help you with these services.
Why is it Important to Clean Apartment Complex Buildings?
The exterior surfaces of apartment complex buildings tend to accumulate dirt, dust, and grime. Pressure washing can help eliminate these contaminants and prevent the build-up of algae an fungus. The jets of a pressure washer is one of the best ways of ensuring all the dirt and dust particles that accumulate on walls are removed. Balconies, pool areas, patios, and parking areas can also be pressure washed to help your property look cleaner.
Overall Maintenance and Conditioning
What many don't realize is that pressure washing helps with reducing the cost of property maintenance. The main reason is that, when your surfaces remain clean, they're at their best condition. Your tenants won't be tracking dirt, debris, grease, or grime into their units. That means you won't have to spend time cleaning or replacing flooring as a result of that occurring over time.
What Can You Expect From a Pressure Wash Cleaning Service?
Often, when commercial clients hire Maryland Pro Wash, they have the following expectations:
They want to attract more potential residents to their buildings to receive higher profits.
The removal of contaminants including mold, algae, or fungus that could deteriorate brick, cement, vinyl, or wood siding.
The removal of allergens from their building's exteriors to help make their properties healthier.
They want to eliminate things that make renters pause, including nests, spider webs, and other unattractive elements.
Maryland Pro Wash makes it their mission to make the quality and value of your buildings a priority by keeping them well-maintained and looking their best.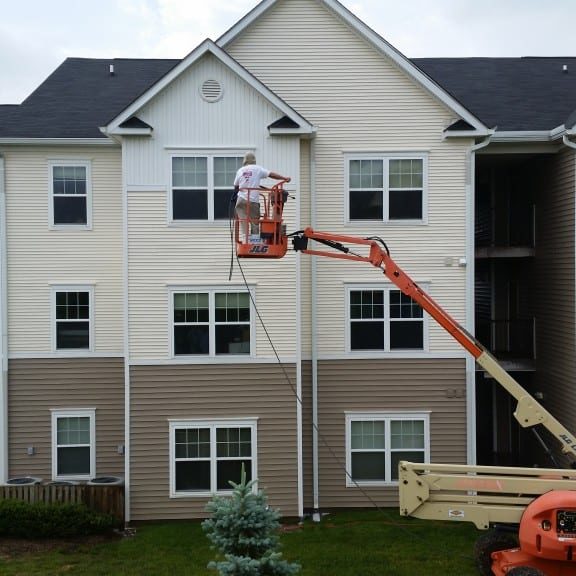 Posted in
Anne Arundel County, Maryland
,
Baltimore County, Maryland
,
Brook Haven PA
,
Broomall PA
,
Carroll County, Maryland
,
Cecil County, Maryland
,
Chester County, Pennsylvania
,
Chester PA
,
Chester Springs PA
,
Coatesville PA
,
Delaware County, Pennsylvania
,
Downington PA
,
Drexel Hill PA
,
Exton PA
,
Glen Mills PA
,
Harford County, Maryland
,
Havertown PA
,
Howard County, Maryland
,
Lima PA
,
Malvern PA
,
New Castle County, Delaware
,
New Castle DE
,
Newton Square PA
,
Oxford PA
,
Springfield PA
,
Swarthmore PA
,
Wayne PA
,
West Chester PA
|
apartment cleaning
,
pressure washing