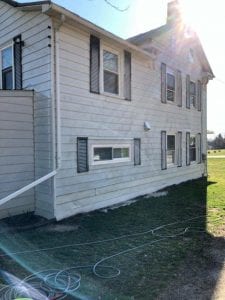 Located in Edgewood, Maryland, Maryland Pro Wash serves the surrounding counties in Maryland, Delaware, and Pennsylvania. We are one of Maryland's top exterior cleaning companies, and we've served the local communities for years. Our house washing services combine the latest technology with the best biodegradable cleaning products for a clean exterior finish without hazardous effects on your family, pets, or the environment.
The Benefits of Soft Washing
Our customers love our soft washing technique because it gets the job done with no negative side effects. We apply a non-toxic detergent that's safe for your yard and family–including pets. The cleaner loosens even the most stubborn dirt and mildew. Then we blast it away with low pressure that won't harm your home's exterior.
This helps protect the value of your home while appealing its curb appeal. You'll feel proud to invite friends and family over so they can see the difference for themselves!
Licensed, Insured, Professional Home Washing Service
Maryland Pro Wash is a fully insured, licensed company with professional experience in the exterior washing industry. We've worked on numerous homes throughout Maryland, Delaware, and Pennsylvania, and we have many satisfied customers who hire us again and again.
Don't risk damage to your home by hiring a less-experienced crew that doesn't carry commercial insurance. Your home matters and we take our job seriously because we know it's important.
Why should you choose Maryland Pro Wash?
If you've been considering a thorough exterior house and siding cleaning, it's never been a better time. Maryland Pro Wash can make your home look amazing, increasing its value in your eyes.
Here's a review from one of our happy customers.
"Todd and Tony made this a pleasant experience. They were efficient and considerate of the property. The house looks great! All in all, a great job at a great price!" -Mike
You can read more reviews (and consider leaving one of your own!) Give us a call!

Posted in
Anne Arundel County, Maryland
,
Baltimore County, Maryland
,
Brook Haven PA
,
Broomall PA
,
Carroll County, Maryland
,
Cecil County, Maryland
,
Chester County, Pennsylvania
,
Chester PA
,
Chester Springs PA
,
Coatesville PA
,
Delaware County, Pennsylvania
,
Downington PA
,
Drexel Hill PA
,
Exton PA
,
Glen Mills PA
,
Harford County, Maryland
,
Havertown PA
,
Howard County, Maryland
,
Lima PA
,
Malvern PA
,
New Castle County, Delaware
,
New Castle DE
,
Newton Square PA
,
Oxford PA
,
Springfield PA
,
Swarthmore PA
,
Wayne PA
,
West Chester PA
|
house washing
,
Residential
,
siding cleaning
,
Soft washing